Safety Date Sheet
1.Product and Company Identification
Product identification
Product name: Mono-6-(COOH-C4-NH)-beta-cyclodextrin
Catalog Number: SCHEM06102

CAS Number: --
Structure: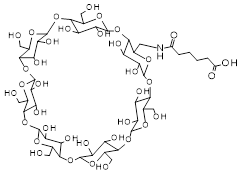 Recommended use of the chemical and restrictions on use
Identified uses:For Research and Development only.
Details of the supplier of the safety data sheet
Shinsei Chemical Company Ltd.
7-7-15-307 Saito-Asagi, Ibaraki-shi
Osaka, 5670085 JAPAN

2.Hazard(s) identification
Pictogram:None
Signal word:None
Hazard statement(s):None
Precautionary statement(s):None
3.Composition/Information on Ingredients
Substance
Component: Mono-6-(COOH-C4-NH)-beta-cyclodextrin
CAS Number: --
Formula: C48H79NO37
4.First Aid Measures
General advice
Consult a physician. Show this safety data sheet to the doctor in attendance. Move out of dangerous area.
If inhaled
If breathed in, move person into fresh air. If not breathing, give artificial respiration. Consult a physician.
In case of skin contact
Wash off with soap and plenty of water. Take victim immediately to hospital. Consult a physician.
In case of eye contact
Flush eyes with water as a precaution.
If swallowed
Never give anything by mouth to an unconscious person. Rinse mouth with water. Consult a physician.
5.Fire Fighting Measures
Extinguishing media
Water stray, alcohol resistant foam, dry chemical or carbon dioxide.
Special hazard arising from the substance or mixture
Carbon oxides.
Advice for firefighters
Wear self-contained breathing apparatus. Wear protective clothing to prevent contact with skin and eyes.
6.Accidental Release Measures
Personal precautions, protective equipment and emergency procedures
Wear respiratory protection. Avoid dust formation. Avoid breathing vapors, mist or gas. Ensure adequate ventilation. Evacuate personnel to safe areas. Avoid breathing dust. Do not attempt to take action without suitable protective clothing. For personal protection see section 8.
Environmental precautions
Do not let product enter drains.
Methods and materials for containment and cleaning up
Pick up and arrange disposal without creating dust. Sweep up and shovel Keep in suitable, closed containers for disposal.
Reference to other sections
For disposal see section 13.
7.Handling and Storage
Precautions for safe handling
Avoid contact with skin and eyes. Avoid formation of dust and aerosols. Provide appropriate exhaust ventilation at places where dust is foamed. Normal measures for preventive fire protection. For precautions see section 2.
Conditions for safe storage, including any incompatibilities
Keep container tightly closed in a dry and well-ventilated place. Store in a freezer and away from oxidizing agents.
8.Exposure Controls/Personal Protection
Exposure limits
No data available
Appropriate engineering controls
Good general ventilation should be sufficient to control airborne levels. Ventilation is normally required when handling or using this product. Eyewash fountains should be provided in areas where there is any possibility that workers could be exposed to the substance. Follow safe industrial engineering/laboratory practices when handling any chemical.
Personal protective equipment
Respiratory protection:Dust respirator. Be sure to use a MSHA/NIOSH approved respirator or equivalent.
Hand protection:Nitrile gloves
Eye protection:Safety glasses
Skin and body protection:Lab coat
9.Physical and Chemical Properties
Appearance: White powder
Boiling Point No data available
Melting Point:No data available
Odor:None
Odor Threshold:No data available
pH:No data availablee
Flash Point:No data available
Evaporation rate:No data available
Vapor Pressure:No data available
Vapor Density:No data available
Relative Density:No data available
Solubility in water:No data available
Auto-ignition Temperature:No data available
Decomposition Temperature:No data available
Viscosity:No data available
Explosive Properties:No data available
Oxidizing Properties:No data available
10.Stability and Reactivity
Reactivity:No data available
Chemical stability:Stable under recommended storage conditions.
Possibility of Hazardous Reactions:No data available
Conditions to Avoid:Heat sensitive
Incompatible Materials:Oxidizing agents
Hazardous Decomposition Products:No data available
11.Toxicological Information
Acute toxicity:No data available
Skin corrosion/irritation:No data available
Serious eye damage/eye irritation:No data available
Respiratory or skin sensitization:No data available
Germ cell mutagenicity:No data available
Carcinogenicity:No data available
IARC:No data available
ACGIH:No data available
NTP:No data available
OSHA:No data available
Reproductive toxicity:No data available
Routes of Exposure:No data available
Specific target organ toxicity:No data available
Aspiration hazard:No data available
To the best of our knowledge, the chemical, physical, and toxicological properties have not been thoroughly investigated.
12.Ecological Information
Ecotoxicity
Fish:No data available
Crustacea:No data available
Algae:No data available
Persistence and degradability:No data available
Bioaccumulative potential (BCF):No data available
Mobility in soil:No data available
Partition coefficient:No data available
n-octanol/water(lot Pow):No data available
Soil adsorption(Koc):No data available
Henry's Law:No data available
constant(PaM3/mol):No data available
13.Disposal Information
Disposal of product
It is the generator's responsibility to comply with Federal, State and Local rules and regulations. You may be able to dissolve or mix material with a combustible solvent and burn in an chemical incinerator equipped with an afterburner and scrubber system. The product should not be allowed to enter the environment, drains, water ways, or the soil. Offer surplus and non-recyclable solutions to a licensed disposal company. Contact a licensed professional waste disposal service to dispose of this material.
Disposal of container
Dispose of as unused product.
Other considerations
Observe all federal, state and local regulations when disposing of the substance.
14.Transport Information
UN/ID No.:Not applicable
DOT(US):No data available
IMDG:No data available
IATA:No data available
15.Regulatory Information
Fire Service Act:No applicable classification
Ship Safety Act:No applicable classification
Foreign Exchange and Foreign Trade Law:Section of the Export Trade Control Order Appended Table 1 of 16 (2)

16.Other Information
Revision data:Oct 07 2022.This SDS was prepared sincerely on the basis of the information we could obtained, however, any warranty shall not be given regarding the data contained and the assessment of hazards and toxicity. Prior to use, please investigate not only the hazards and toxicity information but also the laws and regulations of the organization, area and country where the products are to be used, which shall be given the first priority. Products are supposed to be used promptly after purchase in consideration of safety. Some new information or amendments may be added afterwards. If the products are to be used far behind the expected time of use or you have any questions, please feel free to contact us. The stated cautions are for normal handling only. In case of special handling, sufficient care should be taken, in addition to the safety measures suitable for the situation. All chemical products should be treated with the recognition of "having unknown hazards and toxicity", which differ greatly depending on the conditions and handling when in use and/or the conditions and duration of storage. The products must be handled only by those who are familiar with specialized knowledge and have experience or under the guidance of those specialists throughout use from opening to storage and disposal. Safe usage conditions shall be set up on each users own responsibility.